Officer's Country
The area occupied by the officers was located on the main deck and occupied most of the enclosed space on the main deck. Facilities permitted bunking for 9 crew officers; and for the troops, 9 senior officers and 9 junior officers, During the mid-50ís, many of the LSTs had about 6 officers.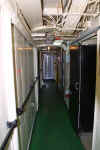 Looking forward in the port passage in Officer's country. The glass door at the end is the Ward Room.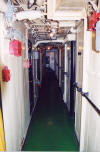 Looking aft in the port passage in Officer's country.
| | | |
| --- | --- | --- |
| Officers | 6 staterooms | 1- Commanding Officer |
| | | 1- Executive Officer |
| | | 1 - Engineering Officer |
| | | 3- with 2 Officers each |
| Troop Officers | 3 staterooms | 3- with 3 officers each |
Officer quarters' bunks had a slightly plusher mattress, were deck-mounted with a storage drawer under and, when bunked, had sturdy square posts to support the upper bunk.
The staterooms were approximately 8 ft x 10 ft, except for the Commanding Officerís, which was only slightly larger. The Commanding Officer also had a sea cabin located over the wheelhouse, and slept there when the ship was underway and the sailing conditions warranted.
Officer's
Cabin
These pictures show two views of one of the junior officer state rooms.
(click for larger picture)
Captain's Cabin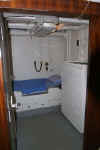 Ward Room
Three views of the Ward Room aboard the LST 325. The ward room is a room aboard a warship where the commissioned officers eat and perhaps spend some of their free time. Currently this space serves many functions. One of which is as a visitor's welcome center aboard the ship.
Ward Room Pantry
In this space the stewards could prepare the meals and serve them to the officers in the ward room. All food was prepared in the galley but in this space the food could be placed on the ship's china and served in dinning room fashion. In the first picture, in the lower right hand corner, a sliding door is visible where items could be passed into the ward room.